Imagine a book that tells the tale of four girls' lives, loves and losses.  The setting is in the city Riyadh of Saudi Arabia.  Girls of Riyadh
by Rajaa Alsanea, is like Sex and the City without the sex and in Riyadh instead of New York.  Gamrah, Sadeem, Lamees and Michelle are the girls who we follow through a series of emails that were written by one of them which tells their stories.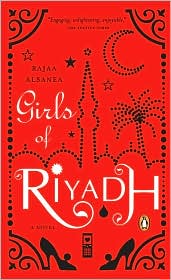 At the beginning of the book you start reading the emails of one of the girls, you don't know which one who has decided that she will tell their story, using a Yahoo group called "Seereh Wenfada7et".  Immediately you are drawn into their lives.  Perhaps it is general curiosity of how other people live their lives especially young women.  Maybe it is the setting, Saudi Arabia, which is very different than any other country.
Coming from a different world where freedom is a taken for granted, it was strange to think about how different my life would have been like if that freedom was taken away.  What kind of person would I have been if I did not have the chance to experience all of the things that I have?  Then again I was very lucky, my parents, even though they are religious people and that is where they have always drawn the line (Halal and Haram) where probably the most open minded parents around.  They encouraged education, intellect and culture.  They wanted us to learn, to read and to explore.  Before them, my grandparents did the same for their children.  So perhaps it is a mindset more than anything else.
The book is rich with culture and tradition.  The author is very descriptive and makes you feel that you are a welcome yet slightly perverse voyeur into their lives.
I liked the story and would recommend it as light reading.  Maybe because the author is still young I felt that it lacked a certain depth to it but I can't exactly put my finger on it, or maybe it is just the fact that the book was originally written in Arabic and something is always lost in translation.  What I didn't like was the naivety of the girls, but that is not the author's fault that is how growing up like how they did would do to them.  They did sort of grow up on the pages and some of them matures.
Have you read this book? What did you think?