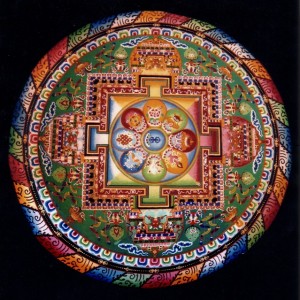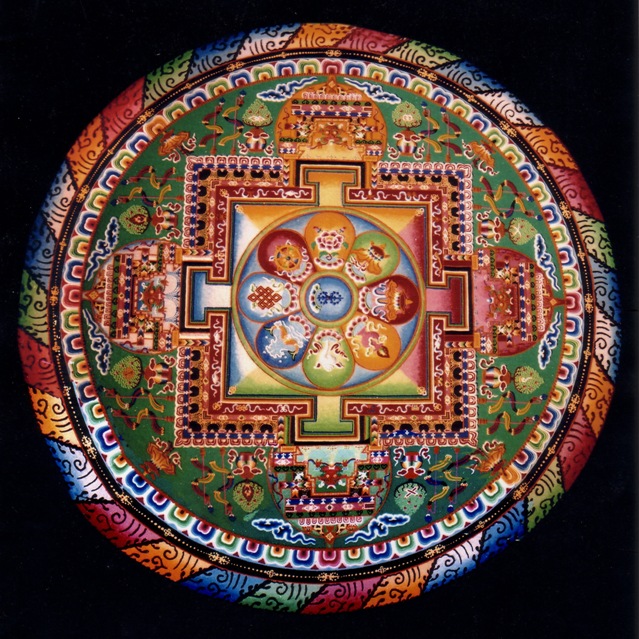 Mandala loosely translated means the "essence" or "circle" and is an Indian Sanskrit word. It conveys the idea of wholeness and our connection with the cosmos.  It is related to Buddhism and meditation.
In common use, mandala has become a generic term for any plan, chart or geometric pattern that represents the cosmos metaphysically or symbolically, a microcosm of the Universe from the human perspective.[From WikiPedia]

Describing both material and non-material realities, the mandala appears in all aspects of life: the celestial circles we call earth, sun, and moon, as well as conceptual circles of friends, family, and community.[from MandalaProject.org]

It is said by Tibetan Buddhists that a mandala consists of five "excellencies":

The teacher
The Message
The audience
The site
The time

An audience or "viewer" is necessary to create a mandala. Where there is no you, there is no mandala.(from: You Are the Eyes of the World, by Longchenpa, translated by Lipman and Peterson).[from MandalaProject.org]
My mother was the one who told me about them maybe a year ago, she thought I might enjoy making them and coloring them, she has always thought of Art as a good way to relax and pass time.  I had seen a documentary on a sand mandala being constructed for peace by the UN and children but I didn't quite recall it when she told me about them.  A couple of days ago I came across the Essence of rabbit and thought it was the cutest mandala I had ever seen, made by rabbit characters from many sources.
More on Mandals: