Because only Captain Haddock says it best.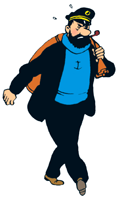 Sometimes you want to curse and swear so here are some of the Captain's funniest curses (which are really not swear words)
"Nitwitted ninepin"
"Logarithm!" I am not sure how that's an insult but I hated logarithms when I was still at school.
" Interplanetary-pirate!"
" Bashi-bazouks!"
In Arabic the funniest one was always "Alf alf alf melyon la3na" ألف ألف ألف مليون لعنة
Sources: Captain Haddock insult generator (yes there is such a thing) and Captain Haddock's insult categorized by book.