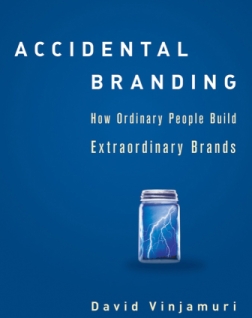 I just finished reading Accidental Branding: How Ordinary People Build Extraordinary Brands

by David Vinjamuri. It is a book about how ordinary people built extraordinary brands. They were people who needed a product, built it themselves, marketed it and built huge businesses; all without no formal business education at all.
The book tells the stories of these entrepreneurs. Even though they come from different backgrounds they have common traits which have made these businesses work.  Vinjamuri says that the rules for brand building are:
Do sweat the small stuff
Pick a fight
Be your own customer
Be unnatural persistent
Build a myth
Be faithful
His chosen entrepeneurs vary from people who started out as a camper (Roxanne Quimby of Burt's Bees), cyclist (Gary Erickson of Clifbar), two housewives (Julia Aigner Clark of Baby Einstein and Gert Boyle of Colombia Sportswear), someone who wanted to shave (Myriam Zaou and Eric Malka of the Art of shaving), a man with a coat (John Peterman of J.Peterman) and someone who sent emails to his friends (Craig of Craigslist).  I loved the way he just describes his interviews with them and how they tell there stories.  It is not a get rich quick book or even a book explaining how you can become an entrepeneur, but rather an inspiring book about truly inspiring people and their work.  The rules can be applied ot anything in life that you want to succeed in.  Sometimes in life we need a simple reminder that no matter what we aspire to do there are people out there who have done much greater just by believing and persevering in what they wanted to do.