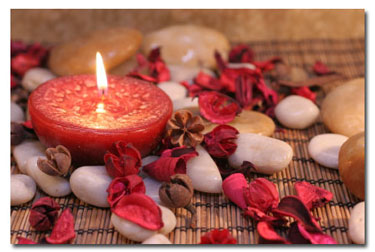 When I was around two my mother left me with my father for a couple of hours to run some errands. My father decided that we could take a nap and we both did fall asleep. Apparently I decided to wake up and play and since he always was a heavy sleeper he didn't wake up. I found my mother's red lipstick and decided to paint my face, my clothes, his face, the bed sheets, the curtains and everything else my two year old hands could reach. My mother came home to a full load in the washing machine.
Today I was baking some brownies and was in the kitchen for 6 minutes and left little Lulu in the living room to play, I heard a noise that I wasn't really expecting and ran out to see. There was the little innocent angel all covered in red candle wax.  She had managed somehow to pull herself up to the TV table and pull down my red candle and dig her nails into it.  That was not enough fun so she somehow got candle wax in her toes as well, her clothes, my cream colored carpet and the bamboo place mats.   The look of triumph on her face was hilarious.  Miraculously though she did not try to taste it and was just happily making a mess when I caught her.  I ended up washing her up and cleaning the mess.  She enjoyed the washing part because she's a little ducky who loves water and splashing around.
I had to call my mother and tell her what had just happened and she reminded me that I too had a fondness for painting the house red.