Yes, MamaMona thinks so, and gave me an award to prove it.  Thank you MamaMona :-).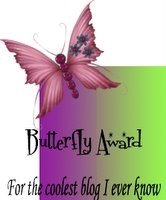 "I'm choosing three blogs to pass it on to and asking that they tell us why they started blogging and then pass the love on to three of their favorite blogs."
Aaaah three blogs?  But I have way more than three favorite blogs.  Doesn't everybody?
I started blogging out of loneliness.  How pathetic is that?  I had started the blog before I got married and moved to Kuwait and hardly posted.  Suddenly I found myself all alone in a country where I didn't know anybody, so I started blogging.  I think I enjoyed the fact that I was writing something and maybe someone "outthere" was reading.  Now it's more of a hobby/addiction.  I've met lots of wonderful bloggers whom have become my friends and truly do make my days so much nicer.
My three chosen blogs:
RJayUpUpAndAway by RJay.  It is not nepotism, she really is an amazing writer with an over active imagination.  She rows (and falls into murky lakes),  wants to be a professional skateboarder when she grows up and has decided to get out of the sand and into the clouds.
Ramblings of the disoriented mind by Juka.  She is smart, funny and writes short stories.  I promised to cite her as my role model when she scratches something off her bucket list.
Not Green Data by Tarek.  He has a very interesting list of Egyptian Evil Empires which includes microbus drivers, explains how to use an elevator and compiled a list of Egyptian blogging Genres.
And I couldn't help myself, I had to fix the grammatical error in the above image (yes, I do have too much time on my hands).