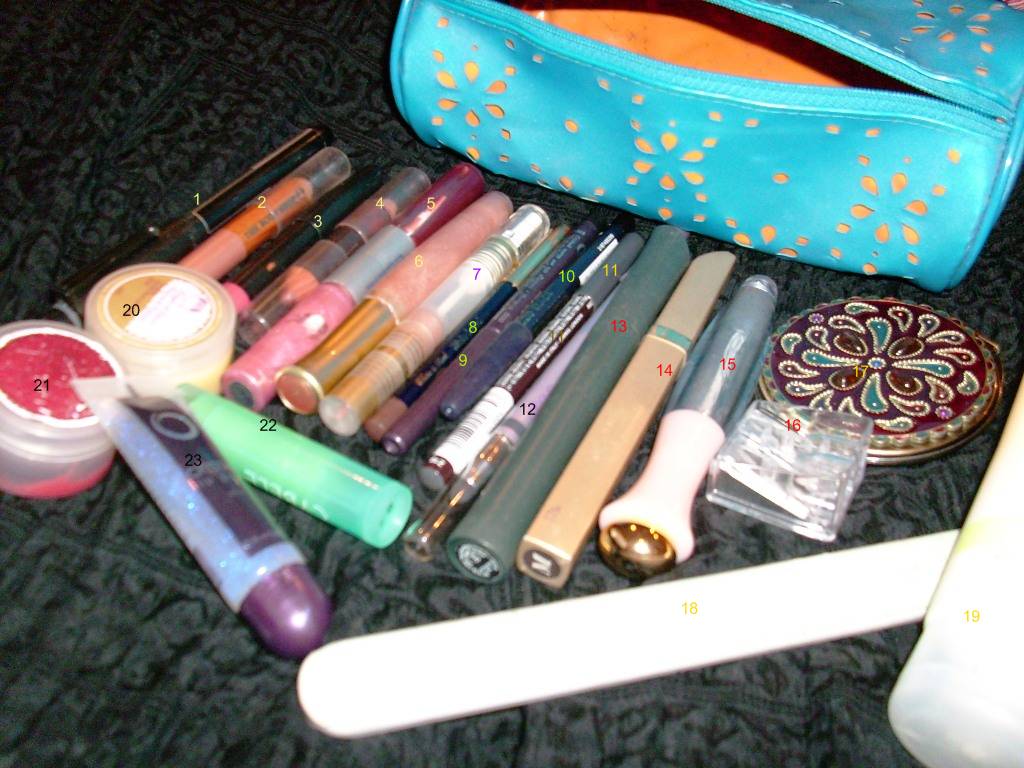 Chikapappi tagged me, so I have to show you what's in my makeup bag.  I am a boring girl who likes to go with the basics.  I usually just have lip gloss on and that's it.
A pen, because I always need one and they get lost in my bags
Lip Pencil – Body Shop
Lip Pencil – I can't remember what brand it was
Lip Pencil –  Cover girl
Lip Gloss – Nivea
Lip Gloss – Bourjois
Lip Gloss – I think it's Luna or something
Brown Eye Pencil – White and Red
Black Eye Pencil – Oriflame
Black Eye Pencil – Max Factor
Brown Eye Pencil – Rimmel
Charcoal Grey Eye Pencil – Sabaya
Black Mascara – BodyShop
Brown Mascara – Yasmina
Clear Mascara – a nameless brand
Sharpener – Oriflame
Funky Mirror
Nail File
Hand Cream – Oriflame
Cranberry Lip Balm – Body Shop
Sugar and Spice Lip Balm – Body Shop
Lip Balm – Cybelle
Crystal Lip Gloss – Orflame
And the glue that keeps them all together my Clinique funky blue and orange make up bag.  There were some paperclips, safety pins and yellow baby barrettes in there too but they should be in my diaper bag pouch.  Now that's one bag that has some interesting stuff like balloons, bubbles and diaper cream.
Now go tag yourself girls!