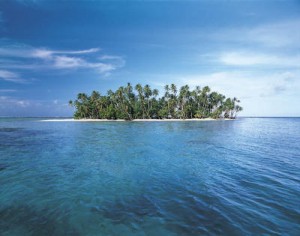 If you were stranded on a desert island and had internet access but could only log on to one website only, which site would you choose?
Would you go for FaceBook so that you could stay connected with the rest of the world?  Or maybe you would rather choose Twitter?  Would you rather have email so that you could email people you know even if they are not on FaceBook or Twitter?  You could also talk people into sending you web pages in zipped files so you could browse everything else.
Wikipedia strikes me as a smart choice too, you could use the time to read and learn so many new things and you could still reach out to people by creating your own wiki entry and updating it and letting your friends update it too.  Would you rather blog?
Maybe you would prefer access to a voice chatting service and do with the ability to talk to people and hear them talk?  An internet TV service or YouTube might be your choice.  It all depends on who you are and what you need?
What would be your choice of internet access? A laptop? A phone? An internet tablet?  Supposing you had a camera would you post a thousand pictures of yourself and island? Maybe hugging the palm trees? One with you in the sand, another one of you and the sea, the possibilities are endless.
Would you be so brave and choose not to be connected at all and take a book and some paper and a pen?  You could write that best selling novel you have always been dreaming to write.  Create a new philosophy and write it down.
What would you choose?
"No man
is
an island
entire of itself;
every man
is a piece
of the continent, a
part of the main." John Donne