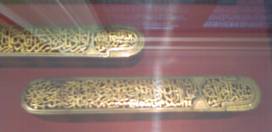 This morning I went to the Tareq Rajab Museum of Islamic Calligraphy.  I've been meaning to go all week and I finally managed to get there today (after getting lost a couple of times).  The museum has a beautiful collection of calligraphic art and artifacts.  Hand written Qurans from Turkey, Iran and Indonesia.  The Indonesian one was written on palm wood strips using hot nails, I have never seen something so simple yet so beautiful.  Just strips of wood, sanded and bound together with string.
Last year I read "My name is Red" which takes place in Turkey in the Ottoman times about minaturists ( the art of embellishing books) and I managed to see some examples of such art.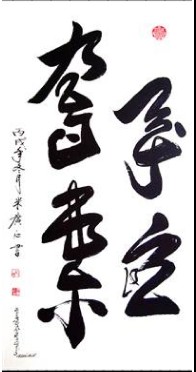 The Islamic Arabic Chinese calligraphy was probably one of the most interesting collections at the museum.  Chinese calligraphy on its own is amazing and astounding but seeing it done in Arabic lettering was totally new.  The beauty of simple ink on paper is awe inspiring.  The fusion of two very different cultures bound by religion, penmanship and the love of beautiful writing was incredible.
Other interesting things were pieces of the keswa of the Ka3ba from the 19th century, a Mamluki
I think if you are in Kuwait you really must visit this musem.