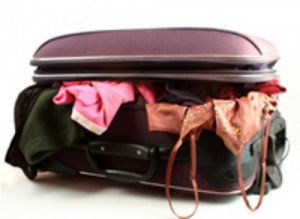 Sometimes I get lost in my head and dream of the things I could have.  You have to understand that I usually do this when I am very tired and my brain is in a state of pink cotton candy.
Magic Storage Space.  I dream of a magic walk in closet, where everything would be magically organized and it would just grow bigger when needed.  I would be able to store everything I want without it ever becoming cluttered or stuffed.  Since I am dreaming, can it also always smell of vanilla and never ever need cleaning.
Magic Luggage.  Magic luggage works the same way the closed does.  I would just throw in my stuff and it would all fit in perfectly and fold itself.  The most important thing would be that it would always be under the weight limit enforced by the mean airline companies so I would never have to pay for extra weight.
Magic Balcony. A magic balcony is the perfect place for breakfast or enjoying the sunset.  The weather is perfect, a cool breeze but never cold or hot and there is no pollution or dust.
Magic Hour.  The magic hour is as short or as long as you need it to be.  It's short when you are waiting at the doctor's or long when you are out with friends enjoying your time.
Magic Map. Just point at the map and *poof* you're where you pointed.