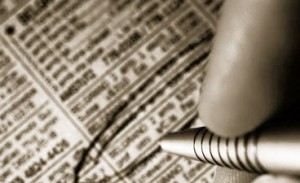 The apartment accross ours is empty and I want new cool neighbors, here is my imaginary ad.
Wanted Cool Neighbors.  Are you a fun loving happy family looking for an apartment?  We're looking for:
a young family preferably with a one year old daughter to be friends with our little one.
you don't make noise, don't scream and never ever shout obscene profanities at home.
enjoy baking and are looking for a cookie making buddy that looks across the hall.
don't mind babysitting one night a week, we will definitely return the favor every week.
have lots of interesting books you would like to swap with your neighbor and start a mini book club in the building.
don't leave your shoes at the door. (Yes, I understand you don't want dirt coming into your house, but please build a shoe rack INSIDE your own apartment, I don't want to see or smell your shoes)
your house always smells nice, so nice we can smell it across the hall.
you would love to have morning coffee with your next door neighbor and have an interesting and smart conversation too.
If you are interested and really exist, leave a comment below.