Patrick Jane that is, The Mentalist's protagonist.  If you haven't seen the Mentalist then you should run along now and go find an episode to watch.  I am serious, the show is addictive and very interesting to watch, I am loving it and totally getting high on it.  If you have watched it then you might know why I totally want to be Patrick Jane, or Jane Patrick a female version of him.
Patrick Jane is a fictional character portrayed by Simon Baker on the American TV crime drama The Mentalist. Jane is a consultant for the fictitious "California Bureau of Investigation" and helps by giving advice and insight from his many years as a fake medium. He uses his keen powers of observation, deduction, and knowledge of social engineering to help lead the investigation. He plays an important role in the show and could be considered the protagonist. [Wikipedia]
The positivity blog has an interesting post on 7 powerful tips for charisma which you can learn from the mentalist.  You really should read the post but here they are in short:
1. Smile.
2. Be interested, open and curious.
3. Be fully present.
4. Be assertive.
5. Be confident.
6. Be amused.
7. Be socially free and authentic.
Personally I have some other reasons I think the character is so cool.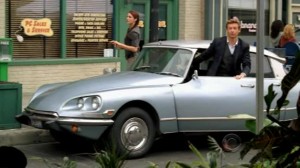 Crazy cool car.  He drives a Citroen DS a 60s model maybe.  I've always wanted a crazy cool car.  Something totally unique.  Of course it would have to be blue and I'd love to redo the leather interior hot pink and install an iPod dock and cup holders.  I always think a car is a lot like it's owner and your choice of car can tell us something about you.
Cold Reading. Cold reading is a series of techniques used by mentalists, fortune tellers, psychics, and mediums to determine details about another person in order to convince them that the reader knows much more about a subject than he or she actually does. Even without prior knowledge of a person, a practiced cold reader can still quickly obtain a great deal of information about the subject by carefully analyzing the person's body language, clothing or fashion, hairstyle, gender, sexual orientation, religion, race or ethnicity, level of education, manner of speech, place of origin, etc. Cold readers commonly employ high probability guesses about the subject, quickly picking up on signals from their subjects as to whether their guesses are in the right direction or not, and then emphasizing and reinforcing any chance connections the subjects acknowledge while quickly moving on from missed guesses. [Wikipedia].  Yes I would love to be a master of cold reading.
Hypnosis.  My first brush with hypnosis was when I was 9 and read The Demon Headmaster series and then like any self respecting nerd I walked into the adult section and asked for a book on hypnosis.  The librarian gave me a dark navy blue book which I read but didn't understand and I've been intrigued by hypnosis ever since.  Fast forward a couple of years later and I started reading about NLP and cold reading.  I am not an expert but an amateur who thinks we are not harnessing our brains' real capacity.
Who would you like to be when you grow up?
What skills does that person have that you would love to have?