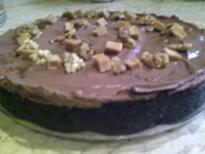 I had some friends over for dinner last night and it was awesome.  It was a simple affair; pizza, salads, crackers with cheese and chocolate cheesecake.  The cheesecake was the best thing on the menu.  I spent hours deciding what to make because I wanted to make something easy but very yummy.  I also didn't want something that might not turn out so well, so after lots of thought I settled on chocolate cheesecake.  I looked at a couple of recipes but most of them needed ingredients I didn't have like drozen whip and things like that.  Not being someone who follows recipes exactly as they are, I had to add toffee bits and walnutes to give it some crunch.  It was a hit, and my crowd is a tough one, cheesecake is a favorite but it is usually regular cheesecake with strawberry or berry topping.
Chocolate Oreo Base
32 Oreros
1 stick of butter
You can't have chocolate cheesecake without a chocolate base.  I used Oreos but you can make a regular base using Digestive biscuits if you like and add some cocoa powder.  Crush them and add the melted butter and press into a spring form pan.  You can crush them in a food processor or just put them all in a plastic bag and smash them with a rolling pin or something.  I like using a food processor because washing it is less work than smashing them, I am lazy like that, plus you get a more uniform texture.  I used an 8 inch pan because honestly, that's the only one I own, but I think a 9 inch pan would have worked better.  Press the mixture up against the sides as well because it looks much cooler that way.  You can always use less cookies and butter for a thinner base.  Put it in the refrigerator until it is nice and firm.  I left it for 4 hours, because I had to go do some shopping, but from experience, the longer you leave it the better.
Filling
2 packages of 8 oz Philadelphia cream cheese
1/4 cup granulates sugar
3/4 cup brown sugar
2 tablespoons on milk
1 teaspoon vanilla
8 oz of chocolate
Walnuts
Toffee
Beat the cream cheese, sugar, milk and vanilla until the sugar has been disolved into the mixture and it's nice and fluffy.  I have a small hand mixer which is not really made for this kind of thing, but I make it do the job, a stand mixer would be awesome, actually a lovely cool pink Kitchen Aid mixer would be a dream, but I will keep on dreaming, I don't have the space to store it and they're quite expensive.
Melt the chocolate in the microwave or on a double burner.  I just put it in the microwave on high for 40 seconds, gave it a stir and it was perfect.
Add the chocolate to the mix, just wait a few minutes for the chocolate to cool first.  Once it's all mixed, drop in the walnuts and toffee.  I just chopped them roughly.  I also got 2 packages of chewy toffees, the kind that have 6 or seven bits in them and quartered them so they would be small.  You could also use a Mars bar or anything else you like actually.  Fold everything in evenly and spoon into the pan over the base.  It should be nice and thick and even out the top.  Decorate it with the remaining toffee or eat it, do whatever you like, but I like a good looking cheesecake, because I think it it doesn't look good I won't eat it.  Pop it into the fridge.  Now you can lick the spoon and the bowl if you like,  yes, I lick the stuff, isn't that why we make stuff in the first place?
Invite friends over, because good things are meant to be shared.  You could of course eat it all yourself, but don't blame me if you get high on the sugar and go running around like a crazy monkey, but if you do, please ask someone to take pictures and post them on facebook.