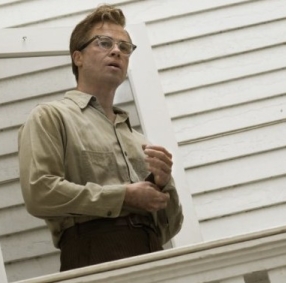 A couple of weekends ago I watched "The Curious Case of Benjamin Button" with my husband.  He totally surprised me and liked the movie.  The guy surprised me even more the week before when he didn't enjoy "Wanted".  Guns, car chases, lots of action and Angelina Jolie in theory should make a great movie, but apparently he thought it was too surreal.  So I thought he would find BB boring or not interesting.  He actually liked it and so did I.
I don't want to spoil the movie for those of you who haven't seen it yet, but consider the idea of growing younger.  What if insteaf physically growing older you became younger, which is the whole idea behind the movie?  I keep thinking about it and realize it doesn't make much difference.  It is just a matter of perception, we are born weak and unable to physically do the same things older people can not do.
I had this post all outlined in my head and had thought of all the things I wanted to write but now everything has totally gone.  Basically the movie was so human,  a woman who could not have children finds a very strange newborn at her doorstep and decides to raise him.  She needed him as much as she needed her.  Life is like that, by helping others we sometimes end up helping ourselves.
The old people in the home accept him as one of their own (he looks older than they are at the begining).  He blends in and stands out at the same time.  That is another thing about life.  Sometimes we look like everyone else but don't share any common ideas, beliefs, hopes or dreams.  Some people learn to blend in and change their views while others, take a leap of faith and find other people to surround themselves with.  Either way ignoring the problem does not work.
Living with older people also helped him learn from their mistakes and aqcuire wisdom he otherwise wouldn't have gained.  This is why people who have older relatives like grandparents or aunts and uncles can be wiser.  If you have someone close to you from an older generation learn from them, they are not going to be around forever.  If you learn to get past the war stories and "this country used to be great" stories there is alot to learn.  They know more about human nature because they have been around humans far longer than us and they know more about life because they have lived longer than us.
BB childlike honesty, curiousity and interest in everything around him were probably the most touching things in the movie.  He wanted to learn and explore everything.  Just because you think you are too young or too old to be doing something doesn't mean that it is true.  Get out there and experience everything.
The love story was simple but very complicated because of the age thing.  He stood by the woman he loved even after she had pushed him away once and then he decided he had to leave her to spare her the pain of having to raise him and their daughter at the same time.  At first I thought it was a silly thing to do and then I realized that it was probably the best thing to do.  Daisy eventually did stay by his side until he passed away.  She cared for him while he regressed into an infant when he needed her the most probably because she was not to drained by having to deal with the years in between.
BB kept a journal which told his story.  We all have a story to tell, writing it down even if it will never be read might be an interesting and rewarding exercise.