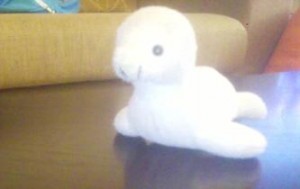 Woowoo, Woo for short is Lulu's favorite toy.  I think he's not a toy to her he's her friend.  Woowoo is a plush baby harp seal.  Woo is her constant companion and she is so attached to the little bugger it is weird.  He has lost his nose and is dirty and stained all over, but he is very loved.  She hugs him, chews on his nose and tries to feed him.  She wakes up and looks around for him if he's not in her crib and holds on to him while she's falling asleep.  Woo accompanies us on shopping trips and has even been to the beach.  She even asks for him while she's in the bath but that's rubber duck time which she calls Battah now and makes sure that Battah is in the bath whenever she goes into the bathroom.
The interesting thing is that Woo was a hand me down toy, my sister in law showed up one day with a huge bag of toys which her kids had outgrown and there were two baby seals in the bag, a clean one and Woo.  Lulu decided instantaneously that Woo was hers.  She knows they are alike but understands that Woo is Woo.  The other one is called "2ottah" like any other plush animal that she doesn't know what to call.  Since she's little Daddy's girl, he has gotten her tons of little cute plushes and soft toys and tried to make her take an interest in them instead of Woo but since she IS Daddy's little girl she is also very stubborn.  Last week we were in Toys'R'Us and he tried to convince her to choose a toy.  He tried kittens, puppies, Looney Toons characters, Sesame Street characters, dolls and bunnies.  She would look at them curiously for a while then look around for Woo and then start asking for him.  He tried again this weekend at Ikea but gave up much faster because he already knew that she just loves her Woo.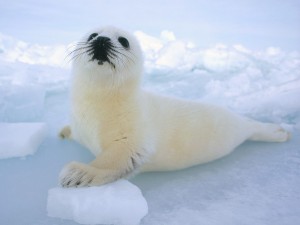 She named him Woowoo, and when she asks for him at home we go around saying "Wooowoo where are you?" for a couple of minutes, looking under chairs and tables until we find him.  This makes her giggle like crazy.
It's an interesting love affair.  I have had to retrace my steps so many times because when I strap her in her car seat and she looks around for him and we realize that he must have fallen somewhere while we were walking around and we go back looking for him.
So if you see a grown woman frantically calling for Woo and looking for a really beaten down white seal, don't think she is crazy.  She is just a mother who is in love with her daughter, who is in love with Woo.