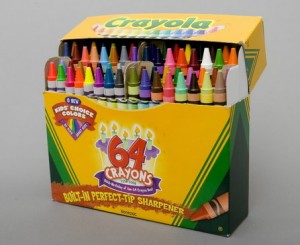 One of my happiest and most vivid childhood memories was the annual back to school shopping trip.  Browsing the aisles for the perfect pencil case, pencils and notebooks was just my sort of heaven when I was a child (it still is actually, I am always on cloud 9 just by looking at the rows of pens at any store).  My mom would melt the old broken down small bits and make rainbow crayons for us.  The yellow box just means fun to me.  I remember at school the kid with the largest box would be the coolest especially if it had one of those built in sharpeners.
So when I read that toddler my daughter's age should be able to start learning how to hold crayons I realized that we don't have any at home.  Up until I had her I always had coloring pencils or felt tip pens and play dough because I enjoy playing.  Yesterday I picked a pack of fat crayons because they should be easier to hold.  We opened the box today and she picked out a red crayon, She likes bright colo.  She held it and then attempted to put it into her mouth.  I picked out a purple on and started drawing swirls on a white sheet of paper, she was fascinated and then tried to put her crayon in her mouth again.  After a couple of failed attempts she threw the crayon away and went to play with her other toys.  I guess she's still not ready yet, but when she is, we have crayons.
What reminds you of your early years at school?