I am not one to easily admit that I am afraid of things.  Scratch that, there are things I am afraid of.
Horror Movies:  I absolutely hate horror movies.  I get scared and even nightmares if there are gory scenes.  I know it is just acting but I can't help it.
The phone ringing in the middle of the night:  I always feel that bad news is coming.
Stuffy Closed Places:  Yes, I am a little on the claustrophobic side.  I don't like elevators especially crowded rides.  I hate it when I feel that I am trapped in a stuffy place.  Interestingly though I used to love hiding in the cupboard when I was a kid and reading horror stories with a flashlight.  Kind of ironic when you think of it, but I think horror stories are not as scary as movies and you can always close the book and the visuals aren't so scary and when you voluntarily choose to hide someplace you always feel in control.  Maybe I like scaring myself.
Train Tracks:  This goes way back to when I was 10 and they showed us this documentary about a little boy who played near the train tracks and got hit by a train then had both his legs amputated.  At the very end they showed you the boy sitting in a wheelchair with no legs.  The image has haunted me ever since.  I still shiver when I see kids playing near train tracks.
Crows:  I once had to go to Suez for a work related thing days after I had seen Hitchcock's Birds.  The crows over there are huge and there were lots of them.  They just gave me the creeps.
Be afraid, be very afraid!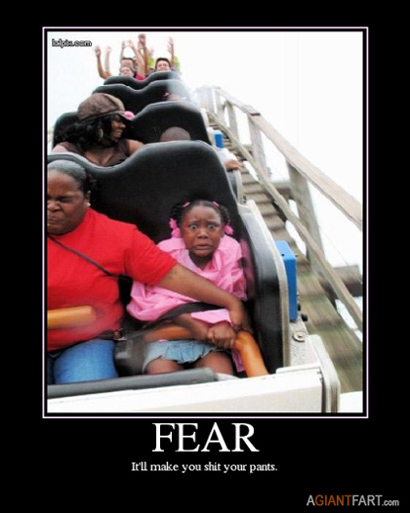 What are you afraid of?