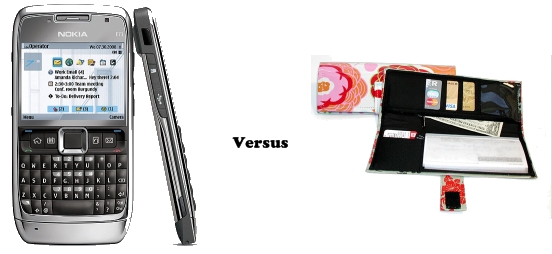 If you had to choose between loosing your phone or your wallet (God forbid you loose either of them), which would you choose to loose?
Most people would rather they not loose their wallet because of the hassle of having to replace cards, ids and other memorabilia that might be in their wallets.
I would like to remind you to back up your phone.  Make a copy of all of your contacts, calendar and whatever else you think is important to you. Keep the file on your PC and email a copy of it to yourself, you never know what could happen.  Also backup your wallet.  Make photocopies or scans of your banking cards, IDs and driving license.  You never know when you might need that kind of info.  I would scan and email those to myself too if I were you.
I love my wallet and wouldn't want to loose it, but I think I value my phone more because of it's connecting ability.
So if you had to choose between these two evils which would you choose?
You could of course go buy yourself one of these Cell Phone cozies/wallets so you won't have to worry about keeping track of two items.