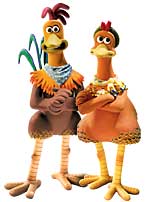 Everyday you learn new things, this week was no different but I just thought I might share.
Persistence without pressure is the key to success.  This was from Taming the Toddler and amazing and insightful book about dealing with toddlers.
Toddlers are fueled by curiosity.  To them everything is new and exciting which is why they have lots of energy to explore the world.  If we looked at everything through their eyes, we would not need caffeine.
There are people in the world who deal with the untouchables, who give without thinking or expecting anything in reward.  They are happy when they help other people.  They are the ones who help the world to keep going round.  The cynics are the people who help these people every once in a while by reminding them that there is always a bad side to people even though they can't see it all the time.  We need both types of people.
Bananas leave terrible stains.
It took the animators of Chicken Run 5 years to complete the movie.  That's an awful lot of work for a movie that you watch in 84 minutes.
What have you learned this week?  I'd love to know five things you learned this week.