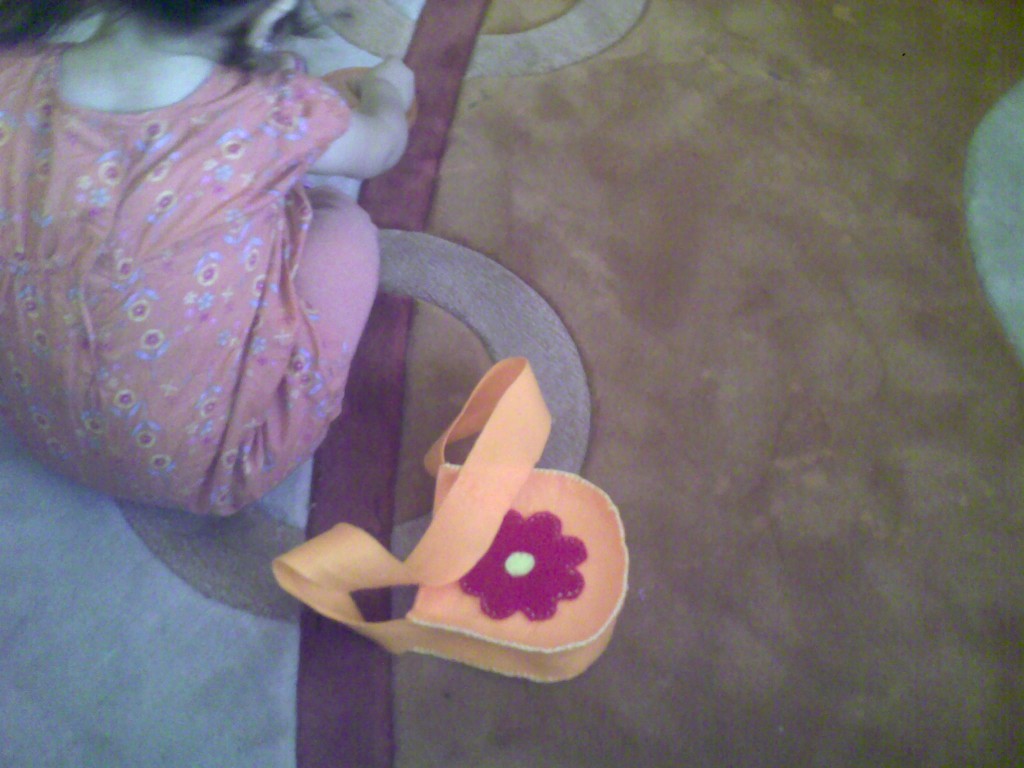 Baby Lulu loves handbags, purses and wallets.  She loves getting into my closet and choosing her favorites and then drags it along to the door saying 'bye bye' signaling that it is time to go out, she's ready and even has a bag to prove it.  I decided that it was time she had her own bag instead of having to 'borrow' mine.  She already has a backpack with a plush kitten on it but it is much too big and she loves hugging and kissing the kitten not carrying it.  I had lots of felt left over from my last Felt Bunny craze and decided it was time to use the stuff.  Felt is so easy to use and if you are  a beginner like me, with no sewing machine it is so easy to hand stitch.
I just made the pattern up, added the flower.  You cut two of the body, 1 handle, 1 flower and 1 circle for the heart of the flower.
First stitch the heart of the flower and then stitch the flower to one side of the body.  Stitch the ends of the handle together so it forms a circle.  Then stitch one side of the handle to the body using a blanket stitch.  Then stitch the other side.
If you don't know how to do a blanket stitch, FutureGirl has an awesome easy to follow tutorial with step by step pictures.
You can download the pattern here [BagPattern].  If you make one please share a picture, I'd love to see them.
Happy crafting.