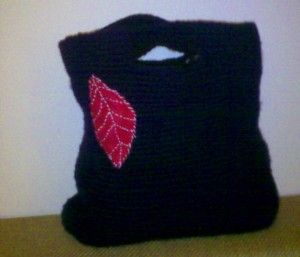 Armed with my new crochet hooks and dark blue chunky yarn I set out to make a tote/purse/handbag and started looking for patterns I could actually follow.  I am a beginner and I wanted something easy.  After a bit of digging and googling I came accross futuregirl's starling tote and fell in love with it.  You can even check out the awesome gallery on Flickr if you are interested.  I love how everyone came up with a totally different look for it.Which is why it was perfect, exactly what I had in mind and easy.  The pattern includes 3 sizes and is basically an empty canvas for your creativity.  And boy was I on a creativity kick.  This isn't my first time making handbags, a couple of years back I used to make macrame bags and they were awesome.   My sister and I spent a summer making and selling them.  Macramé is much easier than crochet.  First macrame is basically just knotting so you don't have a fear of unraveling your piece by mistake (happened to me twice while making this)  and macramé ropes are thicker and chunkier so the bag is done faster and is sturdier.  I should ask my sister to send me a picture because the very original prototype is still at my mom's house.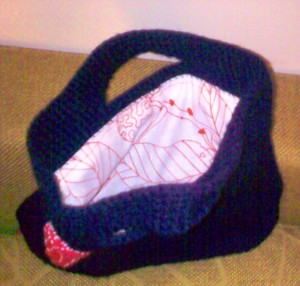 I lined it with white fabric with red leaves and decided to add a red felt leaf outside.  Smart idea, bad execution.  My stitching needs to go visit a stitch doctor but who cares, I have a wonderful new bag that for a prototype is just great.
Crochet is so relaxing, really it is meditative.  Well, most of the time it is, there are other times like when I can't get the instructions or when Lulu decides she wants to run away with my yarn (yes she has done that more than once).  After a while my fingers just start crocheting on their own and my mind wanders.  I sit doing row after row after my daughter has gone to sleep and just think about everything and nothing.  If I crochet enough I will have the answer to the ultimate question of life, the universe and everything else.  An answer which is not 42.
Now excuse me, I have to go make something else.