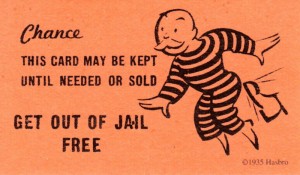 You are unfairly sentenced to ten years in prison.  You get to prison and meet your new cell-mate a wiser and older person who has been there before you for a number of years.  A few days into your sentence and you meet your warden and get told that you have two options:
a.  You can either do the full time of 10 years.
b. You can do only five years.
You are excited and happy and ecstatic and then you ask: "How?".
She continues:
Each inmate has to work a minimum of 8 hours a day, the other 16 hours are for sleep and play.  See, it is a nice jail.
If you wish to get a reduced sentence you will work 16 hours and only get 8 hours for sleep and zero hours for play.  The work is hard and exhausting.  She then tells you that you have a couple of days to think and inform her of your decision.
Your cell mate notices your excitement and understands and offers you some advice: " Many people who have chosen to take option (a) can not get out after 10 years because they have gotten used to this way of life and are too afraid to leave or get their sentences extended.  People who have chosen option (b) are always exhausted and have to fight the distractions and envy of having to watch everyone else play for 8 hours a day while they work."
Which option would you take?