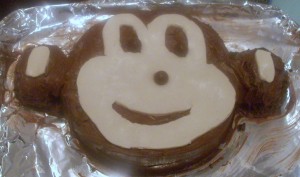 Exactly 2 years today I woke up at 9 am feeling tired and in pain.  I got ready to go out to breakfast.  I was in Egypt and my husband was on vacation with me and was going to take me out to breakfast then drop me off at work.  Instead I went to the hospital, had an emergency C-section and met Lulu for the first time at around 6 pm.  That was when my whole life changed.  Two years have gone by really quickly.  I read somewhere that the days are really slow but the years go by really fast.  That is exactly who I feel right now.
She was born with jet black hair, dimples and(which are gone except when she grins really hard) two birthmarks one on each thigh.  She was also born with a very interesting personality.  She is determined, curious, talkative and bubbly.   She was wrapped in her baby blanket and an outfit I had picked out with my husband months earlier.  She was much smaller than I thought babies should be.  She didn't do anything except sleep, eat, poop and cry for the first couple of months.  I didn't do anything except feed, wash away all the poop and cry while dreaming of sleep (just kidding it wasn't that bad, but I still do dream of sleep).   We decided to be friends.  She didn't ask and I didn't offer but I think I am determined to be friends anyways.  It is still a long journey but I am grateful.
With out current monkey obsession (diapers and crochet monkeys)  which was probably caused by watching too much Curious George, I felt that a monkey cake was the perfect gift.  I wasn't planning on having a party anyways.  My husband and I were planning to celebrate quietly just the two of us at home with a cake and a gift.  When my sister in law said she was going to drop by Friday and celebrate with us we decided to make pizza as well and get balloons as well.  She loved the cake and woke up this morning asking for monkey 'tata' which is Lulu speak for chocolate.  And she spent 10 minutes pointing at it and saying monkey monkey when she first saw it.  I baked it Thursday morning while she was out at daycare and hid it in the top utility drawer so she wouldn't see it.  I also made rolling fondant for the very first time and tried a new chocolate frosting recipe because the one I love uses chocolate chips and I didn't have any.  The fondant was much easier to make than I thought and turned out beautifully.  The whole cake was a success.  It took about an hour and a half from start to finish including baking and decorating so I guess it was easier than I thought it would be.
Lessons learned when making monkey cake:
Make sure you have all the ingredients.
Wash the dishes as soon as you are done with them.  Chocolate, butter and marshmallows are not easy to wash off when they've dried onto your bowls.
Be confident when rolling fondant, if you don't like what you have you can always start all over.
I think the next time I make this I would probably make the frosting the first thing and I would use my chocolate chip recipe.  It usually needs to sit in the fridge for an hour or two but it tastes better and its texture is way better.
Do not lick too much batter.
Take lots of pictures.  It is a fun process.
Write down your favorite recipes.  I send most recipes to my email but still lose them sometimes, so I have a notebook filled with successful tried and tested ones.  I also write down a recipe on large post its and stick them on the wall while I am cooking so I don't have to look for it while my hands are all covered in sticky stuff.  If a recipe passes the test it gets copied into the notebook.
Make sure you have a serving plate that fits.  Unfortunately I didn't the ears make the shape of this cake difficult to fit on a regular plate so I just covered a try in foil.  Next time I would probably cut out a peice of cardboard and cover that in foil and then in pieces of wax paper so I can just pull them from under the cake when I am done so the whole thing would look cleaner.  I know it does not matter but I really care about presentation.  I tried to tissue off excess frosting but it still looked a bit messy.
I have an awesome cake recipe but I was afraid that I would not have enough time so I opted to use cake mix (Betty Crocker's Chocolate Fudge Cake) to be honest I think my cake is better and next time I probably would just use the recipe but it still was a wonderful cake, so don't be afraid to take shortcuts and use a little bit of extra help.
It is best to do this while little people under 5 are out of the house or at least busy doing something else.
Lessons learned when having little Lulus (who sometimes behave like little monkeys)
Sometimes you have to remind yourself that you are in control.  I sometimes need to tell her in a loud clear voice "I am your mommy, you are my daughter, I am in charge".
Making a fool of yourself in a public place to make your daughter laugh is totally underrated, everyone should do it at least once a month.  It is liberating to act the way you really want to as if no one else existed and it is fun too.  Kids are a great excuse for that.
It is sometimes really hard deciding what is best for your kid.  Keep trying.
It is sometimes really hard doing what is best for your kid.  Try harder.
Sticking to what you have decided and started doing is even harder.  Keep trying harder.
Keep track of milestones, if a child is very late at reaching one, go see a doctor.
It is always OK to seek a second opinion especially concerning doctors.  Sometimes it is even critical.
ALWAYS find a little bit time for yourself.  There is an Arabic proverb that say, he who does not have something can not give it (فاقد الشيئ لا يعطيه)  so in other words a mother who is not happy and healthy can not raise happy and healthy children.
Finally,  it is never really a destination with kids, it is a journey, so make sure you pack lots of snacks, diapers, books, pain relievers and a positive attitude.
Happy birthday to you Lulu and happy giving birth day to me too.