I am a procrastinating perfectionist. That is a weird thing to say right?
Anyways, Chikapappi (check out her blog, she's very interesting but not blogging as regularly as she used to or as I would like her to) said she wanted an ipod case. To be honest so did I. I throw my ipod in my bag, sometimes I am a good girl and put it in the zippered part so it won't get scratched. Designing something isn't easy. I wanted something I could use without having to take the ipod out of so that ruled out sock style case thingies. I tried crocheting it and leaving a circle open. Do you have any idea how hard that is? Didn't think so. After a gazillion attempts I decided not to do it that way.
I came up with three ideas and tested them out.
I am still not 100% satisfied.
I like the idea of a flap for easy access, and I also like the felt because I feel that Mr. Ipod is safe and cozy.
But there is something missing.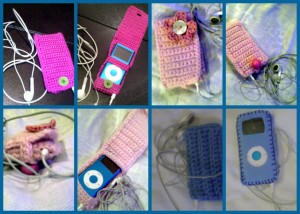 So it is back to the drawing board for me.