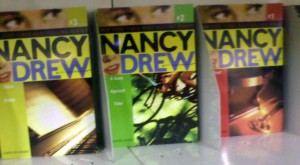 Really, I did.  Did anyone else want to be Ms. Drew?  I thought she was awesome.  The sharp young red head was my super hero.  She didn't have any super powers except her brain so I thought I could eventually be like her.
I was at Jarir this morning and came accross these books and felt really happy.  Happier than a 10 year old nerd in a library.
I read all the copies that were available at our public library when we lived in Scotland.  Then my parents got me some more.  Unfortunately my mom gave them away to a second cousin or cousin a couple of years back.  I thought of buying one, but I am not buying any books until I finish the ones I already have so boo hoo.  I turned around and saw a shelf full of TinTin and Asterix books.  Other favorites but not as dear as Nancy Drew.
Oh well, maybe when Lulu is older I can introduce her to Nancy Drew.
Who was your favorite fictional character as a kid?