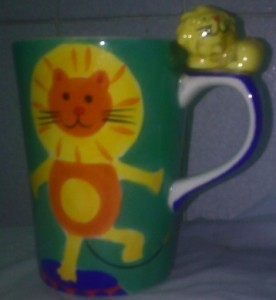 I have lots of favorite mugs.  I buy them because I love collecting them.  I love the fact that they get chipped or broken so I can move on and have a new favorite.  I bought this one back in January 2008,  it lives at my mom's house.  I bought it for my husband because he's a leo and I was very pregnant and waiting for little Lulu to arrive and waiting for him to come from Kuwait and attend the birth.  I was so happy to see it was still safe and sound and I drink coffee in it every morning ever since I got here.
I have a favorite mug at home.  It is a small pale blue one.  I need to mugs of coffee in the morning to get going and because it is a little on the smallish side, it is the perfect size.  I miss it.  Just like I miss my home and most of all my husband.
I used to think that my mom's home is still my home but for the first time I feel like a guest.  I think it is a good thing.  I have a home that I can call my own.  It might not be a castle (yet) but it is mine.  So as much as I am enjoying this long awaited vacation I am secretly happy knowing that I am eventually going back to the home I call my own.