Where is the five?  They are coming right after this.
My daughter asked for popcorn this morning.
We had a bag of microwave popcorn.
Only problem was that no one else wanted pop corn and like every smart mom I don't like wasting good popcorn.
Fortunately we had regular pop corn.
How do you pop pop corn without a bag and without using a pan/pot or whatever.
Yes I am that lazy, I don't like washing pots or pans.
I know how to use paper bags to make popcorn in the microwave but didn't have any.
Then I had this incredibly awesome idea of making my own bag using origami.
I learned making this bag when I was 9.
Which means it took more than a decade to find a use for this otherwise useless piece of knowledge in my head.
You will need wax paper, parchment paper, oven proof paper or whatever kind of paper you feel would be safe in the microwave.  I had wax paper and it said on the box that it was microwave safe.
Cut out a square peice of paper.
Fold it in half.
Then in half again to get a square.
Fold diagonally.
Unfold the diagonal fold.
You should have a square with 4 layers of paper.
Put your finger in between the top layer and the bottom 3 layers and pull it out creating triangle.
Flip it over keeping the closed edge at the top and put your finger between the bottom two layers and pull the top one creating a second triangle.
* Fold the bottom corners of the triangles into the middle center corner.  You should now have a square on top of a triangle
Fold the outer corners of the square into the center and then insert the free corners into the smallish center triangle you just created.*  (last picture in the second row)
Turn it over and add your popcorn
The kernels should be able to lay flat in one layer.  If you add more the bag will burst open.
Repeat the steps between the * … *
Your origami ball is ready to go into the microwave.
Set the microwave to 2 minutes on high. And blast those kernels into popcorn.
Enjoy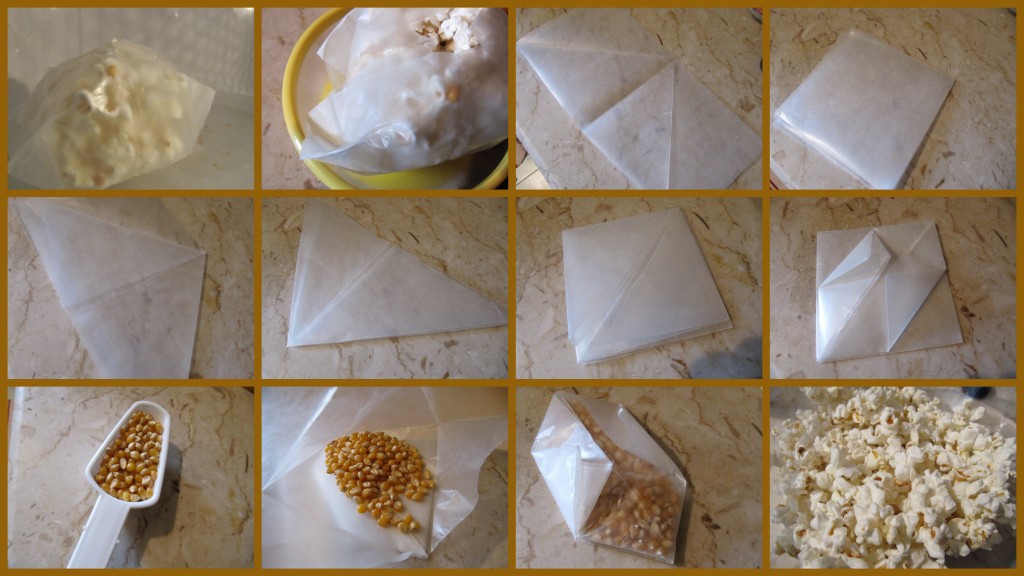 You can click on the image for a larger version.
Oh about those five:
Everything you learn in life will someday, somehow become useful even if you don't believe it right now.
You should not waste food if you can.  Always make food in portions you know you can consume.  If you are still hungry you can always make more.
When you learn something, share it.  If everyone kept their knowledge to themselves we would still be in the dark ages.
It is always fun to experiment.
Popcorn is a  healthy low calorie snack.