I had this idea that tortured me for days till it finally saw the light of day.  Ideas float in my head begging and pleading to be implemented into something more tangible than just an idea in my head.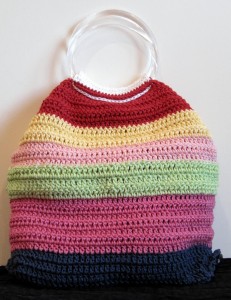 The idea behind this is so simple.  A starting chain, then rounds until it is as tall as you would like plus a little extra.  Then you fold the button and sew on some buttons and add handles.
How easy is that?
Pattern
Chain 51.
SC (Single Crochet) in the back ridges of the chain (50SC), slip stitch into first SC and turn.
SC in the front loops of the chain (50 SC)
The rounds start now.
Chain 3 and DC all around. (100DC)
You can make it a solid color or striped.  I was just using up leftover cotton yarn.
Keep going until the bag is high enough, add a couple of mo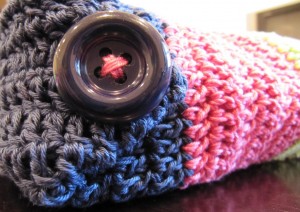 re rows because when you create the base it gets slightly shorter.  Add one last row of SC for a cleaner finish.  Finish off and weave in ends.
Lay the bag on a flat surface align the side seam with the starting chain so a triangle is formed.  Sew on a button to keep it in place.  This creates a base for the bag instead of just being a flat rectangular bag.  I saw the same method being used on canvas totes, that's where I originally got the idea.
Do the same for the other side.
Handles
You can either add crochet handles ( like the one's in Lucy's Bag or Alice's Starling)
I found the middle 24 stitches on each side and marked with stitch markers on either side.
Attached a new color and did 24 SCs then 4 rows of SCs.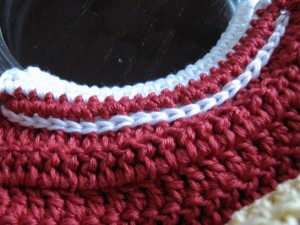 I set the handles in their place by surface crocheting the bag and the little rectangle I just made for the handle.
Repeat for the other handle.
This really only took a couple of afternoons and I wasn't really focused and using a 3.5 mm hook.  If you focus and use worsted weight it could easily only take a couple of hours.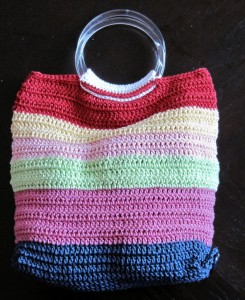 If you want to add a rigid base check out this tutorial