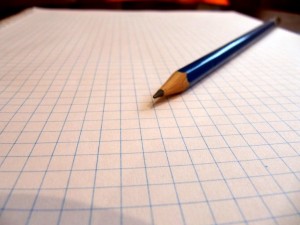 I've been thinking about where this blog is going recently and I was doing a bit of blog-soul-searching.  When I started out back in August of 2006 I had no idea where I was going.  I grew older (and wiser)  and so has the blog.  It has evolved from a little bit of posting here and there to a place where I have a creative outlet.  I was considering starting a second blog for craft related posts only and after a lot of thought decided against it.  This is who I have become.  Trying to label my interests under different spaces would be the same as pretending to be two different people. I know what might interest me might not interest you but I can't help it.  Part of the journey of growing up means learning self acceptance and understanding that sometimes even our closest friends will walk away when we change and grow apart.  It is not a sad thing but should be a beautiful thing, everyone has to move on sometime in their life.  I hope all of you who already enjoy and visit this blog stay even if what I write now is different than what I used to.
I am glad I got that off my chest.
My husband and I have an interesting habit.  We both love scribbling little notes, reminders and ideas on pieces of paper and notepads around the house.  Although his writings are different than mine and usually concern more serious things, rarely a caricature (he should have been an artist but he doesn't really know it) and occasionally little notes he leaves for me.  I usually doodle ideas and inspirations.  I love writing down quotes I hear so I can look them up later.  I sometimes write down blog post ideas.  Sometimes even things I just randomly think I should know more about.
Needless to say we both love pencils, 2B old fashioned pencils.  When I was in school, I'd shave the paint off of them using a knife and either leave them bare or color them according to my own mood.
A couple of days ago I had this idea that I should make pencil toppers.
Let me correct that, I had this idea that kept popping up in my head driving everything else out.
So I drew a little kitty pencil topper.
Isn't that cute?
Don't you just love square paper?  I do.
After a little bit of experimenting and fiddling around I made a cat, bunny and a Chucky like pencil toppers.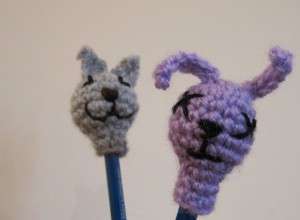 Having decided to start selling the stuff that I design and make I thought to myself maybe I shouldn't be sharing these patterns.  But my self answered back that that would be selfish and mean.  I mean at the end of the day I just do all this because I love doing it.
They also make really cute finger puppets if you have teeny tiny 2 year old fingers :-).
I have to be honest here.  I don't like embroidering the eyes and faces on, because mainly I am really bad at it and need so much more practise.  But being someone who has decided to face all fears and obstacles even if that means embroidering cute smiles onto cute kitty cat pencil toppers then so be it.
Crafting really does bring out the fearless person in me.  :-))
Here is how you can make your own: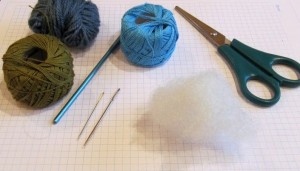 You will need:
A small amount of yarn  ( I used some sports yarn held in a double strand)
An appropriate hook (4.5 mm hook)
Tapestry needles
Scissors
A little bit of micro fill (I have a pillow that I steal from)
Notes: This is worked in a spiral, there will be no turning.  Also note that you have to repeat the stitches in between the asterisks.
There are two ways to start this off.
Round 1: Chain 2 and 6c in the second chain from the hook or by doing 6 sc in a magic circle.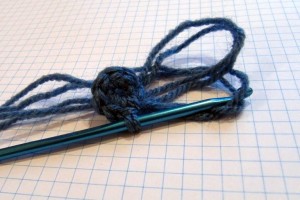 Round 2: *1 sc increase each sc *(12 scs)
Round 3: *1 sc increase next sc, 1sc in next sc* (18 scs)
Round 4 – 6 : *1 sc in each sc* (18 sc)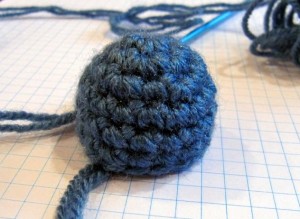 Round 7 : *1 invisible decrease, 1 sc in next stitch* (12 scs)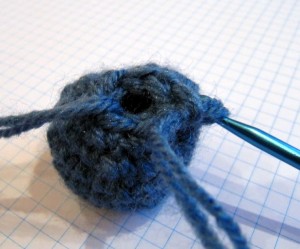 Round 8: 6 invisible decreases. You should now be left with six scs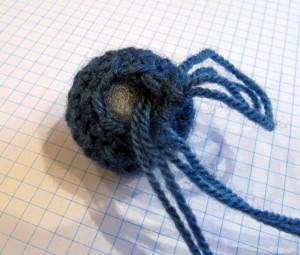 Fill it up with the micro fill and sew it shut using the back loops only.
Round 9:  6 sc in the front loops.  This is the first round in the kneck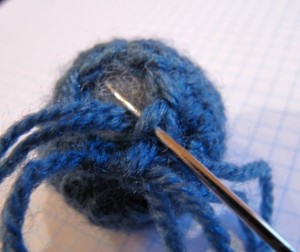 Round 7 and 8. 6 scs
Finish off and weave ends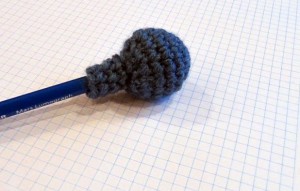 Embroider the face.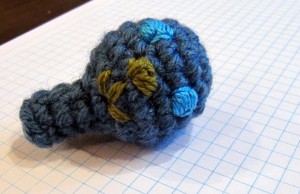 Make two ears.
Chain 2, 3sc in the second chain from the hook.  Turn and chain one.
*1 sc increase in each stitch* 12 stitches
Finish off and weave in ends
Sew on the ears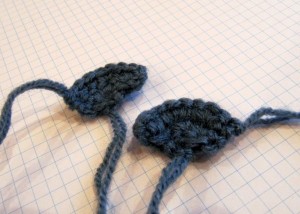 And voila! You have yourself a pencil topper.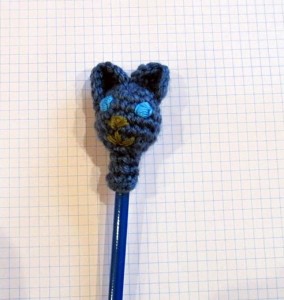 For the bunny ears chain 6, turn and sc 5 in the chains.
And now I have some very cute companions for my pencils.  Who knows? They might even boost my creativity.