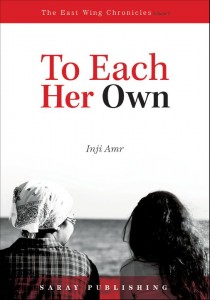 A while back Juka sent me a copy of her book To Each Her Own, which is now published and on the shelves of bookstores in Egypt and will soon be available from Amazon too.
All this goes back to November 2008, or at least for me it does when she posted her bucket list of things she would like to do and one of them was publishing a book.
The story or should I say the story line because it is not like a conventional story with a beginning and an end but more like looking into the lives of a group of  young Egyptian women on a timeline in their lives. It leaves you with the feeling that the girls are now your friends and that you will pick up the phone and check on them.
A book by a young woman for young women, well men can read it, but I think it touches women more. Six young women who are ambitious and live purposeful lives are always a great example for other women. The characters are so real and that is not a surprise since they are based on real people.
A lovely read, yet it might leave you inspired to find yourself, embrace it and move full speed ahead in your own life of purpose.  It should also make you reach for the phone and call your friends because the feeling of friendship and camaraderie in the book is quite high and heart warming.
Juka, I wish you all the best and hope that this debut book is just the beginning of a long list of bestsellers and I want a signed copy of this one too.
If you  are interested there's also a book launch and signing event at the Sherouk Bookstore tonight at 7 pm.