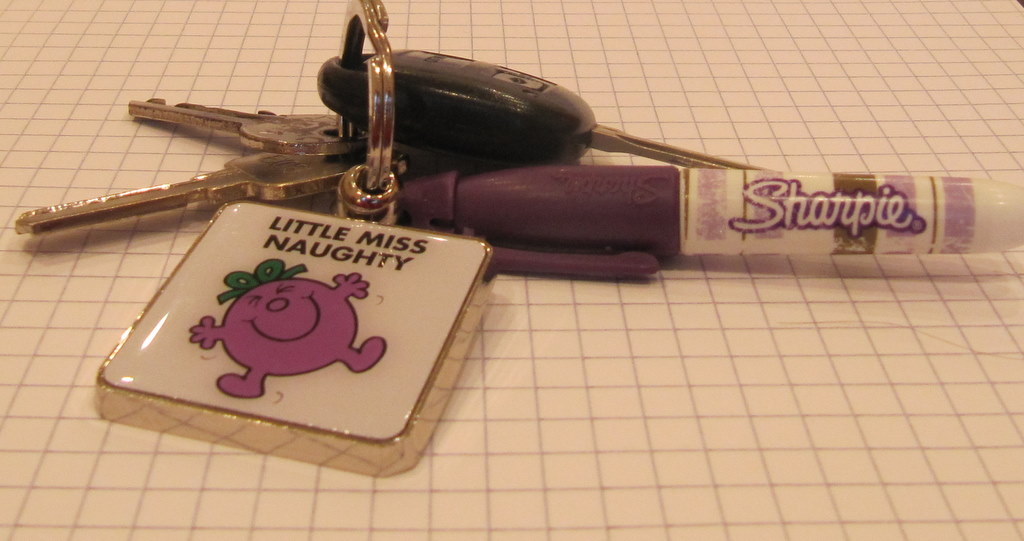 These are my keys. Yes I have a little Miss Naughty keychain. I love the Mr Men and Little Miss series. I found this totally by chance and got two one for myself and a Miss Chatterbox for my sister.
I only have 3 keys. The car key, the apartment key and the key to my mum's home. And yes I carry a Sharpie pen.
The key to our apartment and the car key need no explanation.
But why I still carry the key to my mum's home is a long story. The day I got the key was a great day. I can't remember any of it, but I do remember feeling older and wiser when they gave me a copy. I felt like an adult ready to face the world. But this isn't the same key I was given. A couple of years later someone lost their key or gave it to my grandmother or something and I had to give my key up and thought I would have to make another copy. I remembered that my dad's key chain was in my drawer and that it might have a key to the apartment. It did, and that rusty key is the one on my key chain. It is a key that I am not going to give up. After my dad died my mom gave away almost everything he owned in the house except the few things we could save or could not be given away. His keys sat in my nightstand's drawer and still do. He had this cheap promotional key chain but it had Ayat Al Kursi on it so he liked it. It is green and plastic and had lots and lots of keys on it. I loved staying up waiting for him and hearing the keys jiggle in the door is still a happy memory. Whenever I hear my husband's keys in the door I get the same feeling. It is a feeling of happiness and safety, that those who have gone out have come back and are safe at home. Keys are symbolic. They mean that you belong someplace. When I first got married I remember the day my husband gave me the key. It was also the same day our furniture arrived and the same day I went out and unlocked the door for the very first time with my own key. The first day of my new life. We have changed the lock a number of times but the original key is in my jewelry box because it is not just a key. It is a symbol.
The rest of the post is in my head but I am getting all emotional so I am going to stop now.
What is on your key chain?
Play along. Take a picture and tell me your story.