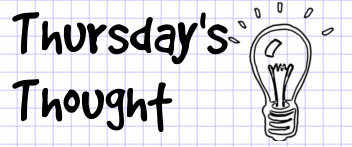 I always have these crazy random thoughts running in my head all the time. Some are totally smart and others are totally weird. But I want to share some anyways.
Every Thursday I'll be posting one thought and I am inviting you to do the same and then link up your post by clicking the Linky button at the bottom.
I just have one rule if you want to join in. No idea is stupid and no one should make fun of other people's thoughts.
Simple right?
This week's thought:
"What would be a good alternative to democracy?"
I've been reading Think Before it is Too Late by Edward DeBono and he argues that democracy was designed for stability and not progress. So what would be a good system especially for Egypt? He gives some ideas and examples like adding a huge number of empty seats in parliment which would be affected by general polls. I find it really interesting but very befuddling. Again, how would you even begin to implement a new system in Egypt, logistically speaking at least.
So what are your thoughts?