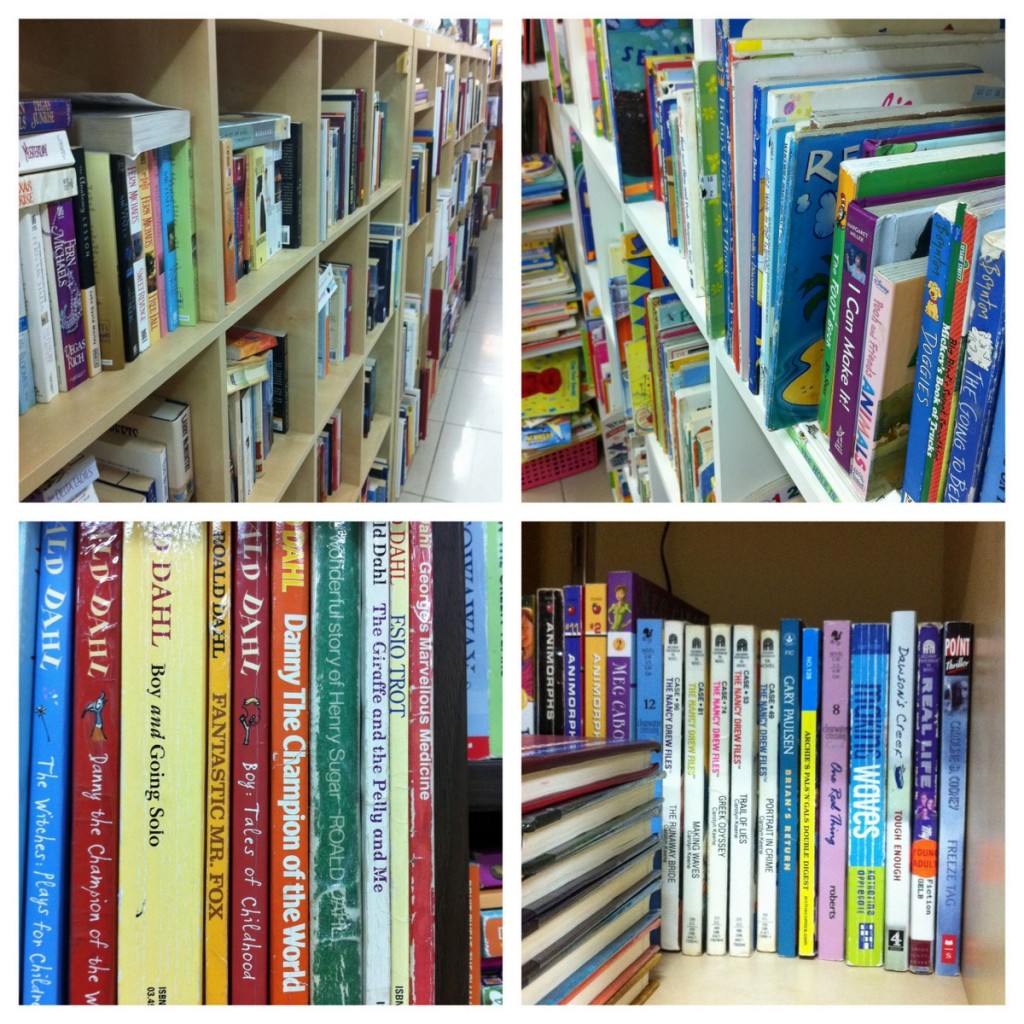 The books and I have a long history together.  When I was a child, I had friends and I was an upbeat outgoing kid. But something was always missing so I usually ended up in the library and ended up reading a ton of books.  Books were my friends, my safe haven and my outlet from the world.  They still are, but there aren't enough hours in the day to read all the books I want to read.
Today I took my daughter to Better Books for story time.  And if you are in Kuwait, you really ought to pay them a visit.  They have lots of amazing activities for all ages.  But basically they are a used book store, with an eclectic selection and good prices.
I spent the hour reading, knitting and then I got up and visited the books.  I stood in front of books that I had read as a child.  Every book held a different memory of a place.  The Dr Seuss books reminded me of my childhood in Kuwait, of reading them in the school library.  The Roald Dahl section transported me to a little city in Fife, Scotland called Kircaldy.  My memories of these books are vivid and real, maybe even more vivid than the actual stories that are in them.  And then I moved along and saw the Nancy Drew, Hardy Boys and Sweet Valley High books on a bottom shelf.  I started reading Nancy Drew in Scotland and kept reading them in Egypt and added SVH to them too.  I remember my teen years, they were awkward. But not these books, they were an escape.  An alternate reality.
Harry Potter, mostly read in Egypt before I was married and the last one read here in Kuwait while I was expecting my daughter.  And then my mind wandered off to all of the different strange books that have been my friend for the duration I was reading them.  Books on magic tricks because for some time when I was 9 I wanted to be magician and a juggler.  I even had a set of juggling balls.  Books on yoyoing, origami and garden growing.  There was also that book about hypnosis that I borrowed from the adult section in the library when I was 10 and the librarian told me that I was too young to be able to understand it.  I remember how I thought that since I could read and use a dictionary then reading any book was not a problem.  I read that book and didn't understand much, but I learned that you can always do things that people you can't possibly do.  I still love books on the secrets of the mind, which I can thankfully understand now.
I went through a period of reading NLP books when I was in college because I thought I could change the world if only I could control what other people thought which was probably a result of reading The Evil Headmaster series when I was a child.  I learned that I could only change my mind and no one elses.
There is an old copy of 'Kalila we Demna' in my library.  It belonged to my father and he read the stories to us, or so I thought.  He told us the stories in his own way.  I tried reading from it a couple of time but it is very cumbersome, but I still cherish the book, because it is about the happy memory of my father.
I now own a Kindle Fire and I am in love with it. It is loaded with a bunch of books and I am finding that I have been reading more than I usually did.  It lives in my handbag and I whip it out and read when I am waiting in the car for my daughter to finish school, I read while I am waiting for my turn at Aramex, I read in bed and I also read to my daughter (I got a bunch of Dr. Seuss books for her). When people tell me that they dislike the ereaders because they love real books I have to agree and disagree.  I love books too, but I read them for their content and for the memories that are created by them.  While the experience of reading from paper is one that I love, it is not one that will make me ditch the gadget.
Yet, I am teaching my daughter to love books.  She has her own shelf in our modest bookshelf which has been filled with books (my mom buys her lots of books too, I guess my mom is the reason I love books too).  She will pick out her books all by her self and she will even take them to bed and to school in her little lunch bag.  She pretends to read them too making up the words as she looks at the pictures.  But then there are books that we have read so many time at bed time that she almost knows all the words by heart.
She understands that books are marvelous and are to be taken care of, loved and enjoyed.  But she also understands that the books are about the memories they leave behind, about story time at bed time, when she will turn on her little light, get into bed, plop up the pillow, pick out a book and ask me to read.  She doesn't follow the story line, she asks a million questions, she looks at the pictures, she makes up a different plot.  One day she will stop asking me to read and she will sneak into bed and read under the bed cover like I did, and I will tell her to stop reading and to go to sleep and she will pretend to listen and will just keep on reading and I will pretend not to notice because I know how much fun she will be having.
Because after all, a reader will always be among friends when they are reading a book.