An undershirt
is
an article
of underwear worn
underneath a
dress shirt intended
to protect them from
body sweat and odors. It can have short sleeves or be sleeveless. The term most commonly refers to upper-body wear worn by males. It also makes dress shirts less transparent. It can also be worn during winter months as an extra layer of warmth. – Wikipedia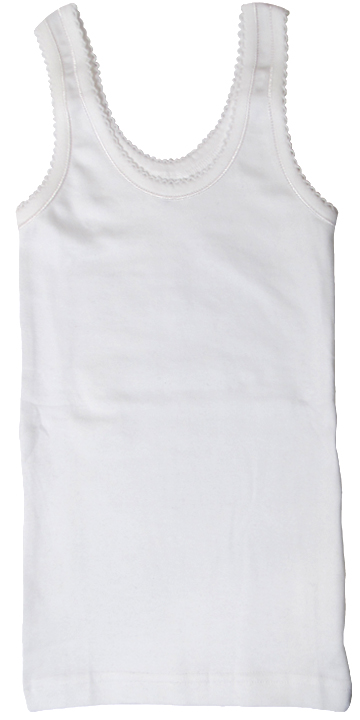 The undershirt is an ubiquitous item of clothing for Egyptian children and men. Almost always white and something I hate.  It is another example of one of those things that people just do because everyone has always done it.  I think most Egyptians will tell you that their family has worn an undershirt since the time of Ramses the first.  That is basically the real reason why people wear them "we have always worn them".  Then they will go on about how important they are in the summer because they soak up sweat (gross) and keep them warm in the winter (redundant).
Basically I think it was more about when people did not have automatic washing machines so it was just easier to wear undershirts and wash them instead of having to wash a shirt.  But we all have the wonderful device called the washing machine in our homes so I don't find that argument really convincing anymore.  Especially for children, since they usually spill something or roll around in any available dirt, so you will probably need to wash their clothes anyway.
As for staying warm in the winter, SERIOUSLY? When it is cold, I usually dress her in a couple of layers so who cares if it is a purple t shirt instead of a white sleeveless undershirt.  If it is about warmth, the layers are what count not what we call that layer.
My grandmother keeps bringing it up until I finally gave up and bought one, so my daughter can wear it when she visits.  I am not really trying to defy anyone.  I just don't see why it is such a huge deal and why every Egyptian and their mother needs to tell me that I need to dress my daughter in a certain way.
And this isn't really about the "undershirt", it is about all of those little things that we do without questioning because it is how everyone has always done it.  So many cultural practices that make no sense at all.  Questioning things around us is healthy, imperative actually.  Why can't I start my meal with dessert?  Why do I need a living room when I really need a craft room/family room?  Do I really need to own a TV, when I already watch almost everything online?  Why do couples who get married need to have kids right away? Why do we need to have two children? Why are people who chose to have one child heckled all the time? I have no problem with people making these choices or others, I just wish we put more thought into what we choose.
We have shackled ourselves and our lives needlessly.
I have taken off the undershirt (literally and figuratively).
I invite you to try it.  And if you do want to keep it on, then do it because you like it, not because you should keep it on because someone a hundred years ago thought it was a good idea.
Oh and by the way I googled about the benefits of the undershirt and came up with nothing scientific.