Update : New version of the pattern here
I hate those half skein leftovers.  They take up valuable space that could house full skeins.  Yes I have lots of those half skeins or less.  So, last night I decided to find a use for them and since my husband was out for the evening I made 2 in a couple of hours.  They take around 50 m /60 yards of yarn and are seamless, knit from the top down.


They would make great gifts or stocking stuffers. I made mine on the smallish side (6.5 inches across and 4 inches high) but the pattern includes information on how to make the size you want.
I am using it to carry my knitting notions.

And yes those are cable needles, I got them a couple of weeks ago because I have been eyeing those pretty cables for a while now and I think I am ready to learn cabling.
If you want to make one, just click on the image below to get the pattern.
**Edited to add: the pattern is in pdf format, you need to click the image below to get it, if you are having difficulty getting it leave a comment or email me [ jessyz [at] chocolatemintsinajar [dot] com] and I'll send it to you. The reason it is in PDF form is so you can download it and print it easily or store it on your smart phone and use it from there without needing to print it at all **
I also have a tutorial for adding zippered linings to your finished items which you can find by clicking the image below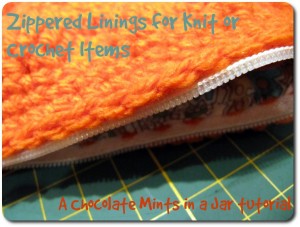 Update : New version of the pattern here