No body wants to hug a DPN right?  They're skinny and sharp at both ends.  And they are know for running away and leaving your socks in the middle of a WIP, well at least mine do.  And I am not exactly a fan of picking up stitches.
And do you remember these?  I finished one of the socks and cast on for the second one of the pair.  I now understand why some knitters like the two at once method.  It makes sense for people like me.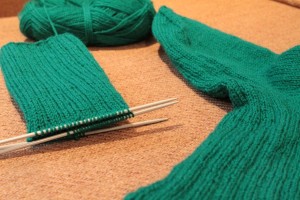 So the DPN hugger was born.  Or maybe it was just me procrastinating and not actually knitting, I guess now you know why it took me so much time to knit the first one. 🙂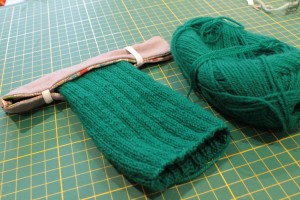 | | |
| --- | --- |
| | You will need 2 pieces of outer and 2 pieces of lining fabric sized (17.5 x 4.5 cm) these fit DPNs 15 cm long.  And two pieces of elastic 6 cm long each. |
|   |  Place the pieces of elastic 5cm from the edge on each side on the right side then place the other piece right side face down and pin. |
|   | Pin the lining right sides facing. |
|   | Sew three sides, and leave one long end without sewing it. |
|   | Repeat for the lining but leave a gap in the middle for turning at least 5 cm long.  Clip the corners and the excess elastic. |
|   | Place the lining inside the outer, right sides facing, make sure that the elastic straight and one piece at each side. |
|   | Sew along the top and trip the excess elastic at the top. |
| |  Turn it right side out. |
|   |  Place your needles inside and pull the elastic around the side so that your needles are nice and safe.  And you are done.  Now you can put your knitting safely in any bag without worrying that your needles are going to run away.  If you want to make them for longer needles, just cut a longer rectangle and change the placement of your elastic. |
Now excuse me while I go knit me some socks.