I just love knitting for babies.  I think it is to make up for the fact that when I had my daughter I hadn't learned to knit yet.  My grandmother knit 4 wrap around cardigans and some booties.  I was also gifted a blanket from my husband's grandmother.  I thought they were amazing gifts.  Since I learned how to knit, I knit and crocheted 5 baby blankets for friends and family members.  I also sometimes make cardigans and hats.  I think blankets are great for beginners, they are flat projects,  repetitive and are great for practicing new stitches and techniques.  There is a baby on the way in the family and I have been wondering what to make this time.  I have a couple of ideas sketched up for blankets.  I considered onesies because they are so adorable.  But I still haven't decided.
Personally, I dislike pastels for children, I think children are so bright and wonderful, why use pastels? I also don't like the whole idea of pink for girls and blue for boys, I just don't get it.  Neutrals are always a wonderful way to go and nice bright crazy colors are also great too.  Yarn is a trickier choice.  I don't really like acrylic yarn, well most of it is just horrible.  If you can find the soft kind that washes well, then you can use that.  Never ever use a handwash only yarn, do you hate the mother of the baby?  Can you imagine handwashing knit items while taking care of a baby?  A superwash wool blend can be a fantastic option for colder climates and winter babies.  A cotton blend is also great for summer babies.  The only problem with wool is that some people are allergic and for people with general allergies wool can be a beast.  I am not allergic to wool but when a wool yarn sheds, it makes my allergies flare up, so just keep that in mind.
You also need to pick a pattern and a yarn that will make you happy as a knitter. Because why make something that drives you crazy?
Most people will knit a blankets, cardigans or booties. Those are all great items but there are also some really cool ideas like:
Baby mobiles are fun and whimsical, you can use a pattern or just find a toy you enjoy knitting and make a few of them. You can use colored ribbon to tie them to the frame or knit icord. You can also do this in crochet. You can use branches or a hoop for your frame. The possibilities are endless.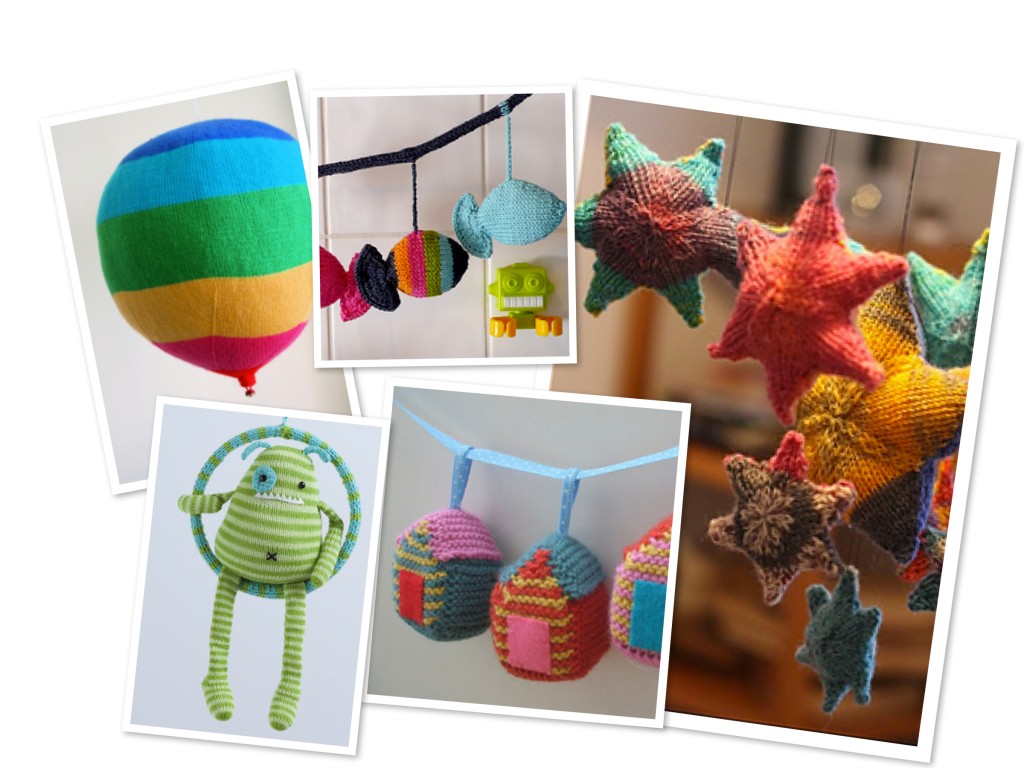 1.Little Fish Mobile 2. Hot Air Balloon 3. Stars, Stars, Stars 4. Monster Swings 5. Beach Huts Mobile
Soakers.  These are great for cloth diapered babies, but can also be used with regular diapers.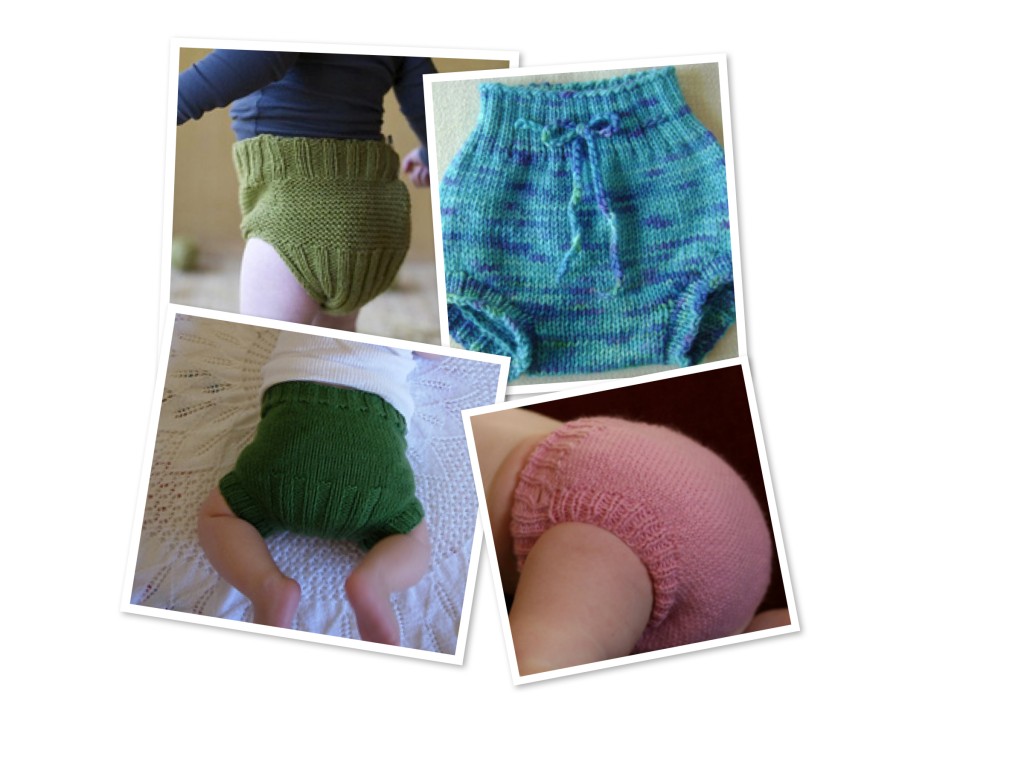 1. Vanilla (dark green) 2. Milo Soakers (Light Green) 3. Buttercup Soakers (pink) 4. Cutie Bahootie (Blue)
There are so many more ideas like car seat blankets, baby sacs, silly hats, washcloths or cushions.  Have fun and enjoy.