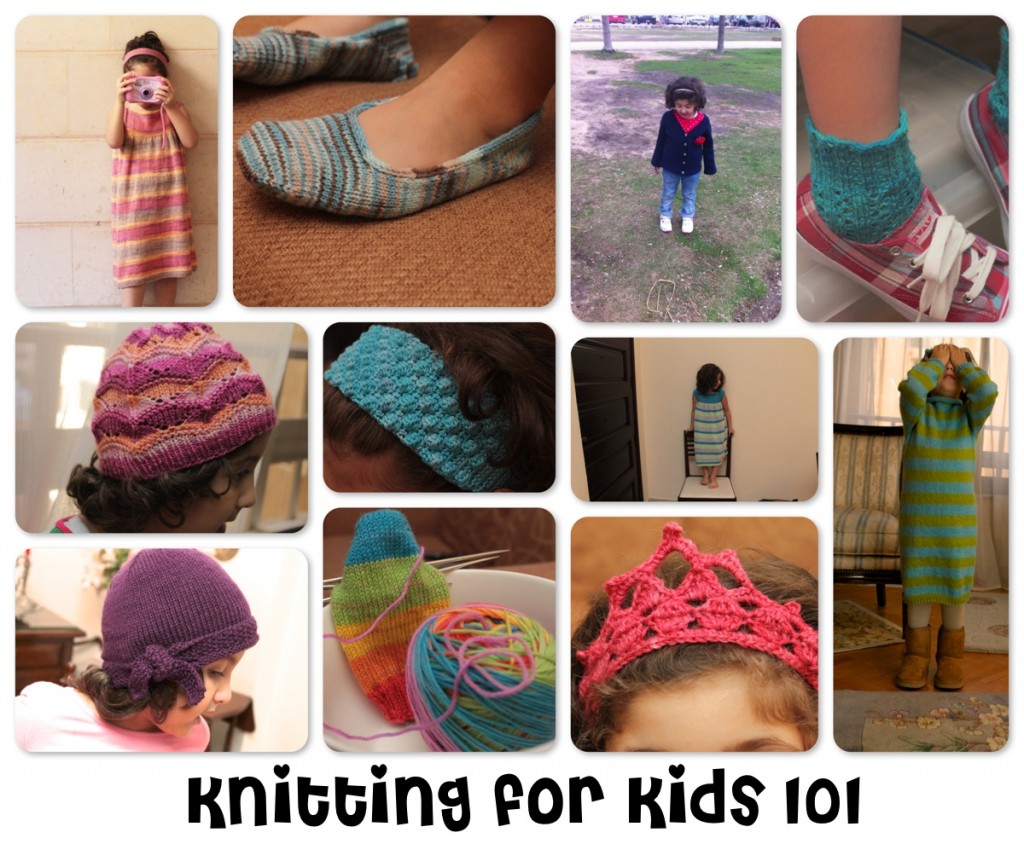 Knitting for my daughter is my favorite knitting. Kids are smaller, can wear bright and fun colors and are generally cute in anything you put them in. Last week I talked about knitting for babies. This week I thought about telling you what you need to consider when you knit for kids.  There are some similar points but it is also a totally different world.
Pick out the right yarn: Pick a yarn that is machine washable. You can of course use anything you want but kids are not exactly the world's best carers of clothing.  They take off their shoes and run around in their socks, they spill stuff and throw things in the laundry basket when you are not looking.  I have shrunk a couple of because they got thrown in the laundry basket by mistake.  Also make sure the yarn isn't itchy.  Have you ever tried making a child wear an itchy item of clothing? It is impossible.  Touch the yarn and make sure it is nice and soft.  Also cotton is great for summer items and keeps them nice and cool too.
Pick out the right pattern: Some patterns are really great, but just not suitable for YOUR child.  Does it have a gazillion buttons and your child is still struggling with buttons, maybe a zipper is better.  Or maybe it is a glove pattern with fingers but your child can't put them on by himself, maybe mittens are better.  Also if you are knitting for a smaller child, be mindful of safety, make sure there is nothing that they can use to hurt themselves or others with like a long cord or something.
Be bold with colors: You don't necessarily need to use bold colors but you can be bold in your choices.  You might not be able to wear neon pink, but your little girl might love it.  Maybe your little boy loves purple and wants a cardigan and you can't find purple cardigans, go for it.  Why limit yourself to conventional color choices when the world can be your oyster.  You can go as crazy as you like. Most kids are pretty fierce when it comes to accepting color.  I also suggest not to just knit colors you like, but ask the child what they would like, and yes if they ask for a purple, lime green and yellow sweater, make one.
Measure the child properly: While clothing on kids are more forgiving on adults a good fit makes clothing look  much better, it can make the garment look adorable instead of just homemade.  Read the pattern carefully and make sure you take measurements where you have to.  Measure every time you start a project, because kids have a tendency to grow quite quickly all of a sudden sometimes.  If the child is in between sizes, I think it is always smarter to knit the larger size because while they will definitely grow, they almost never ever shrink. Knit a gauge swatch.  Make sure it is big enough. Measure it, wash it, block it then measure it again.  If you are knitting a scarf or a beanie gauge might not be super important but if you are knitting shorts or a t shirt, then gauge will matter. Measure twice, knit once is always a good motto.
Don't be afraid to make modifications: Sometimes you have the perfect pattern, and sometimes you should look at it as a starting point.  Does your child love to collect things? Maybe add a pocket or two.  The pattern is a short sleeved one, but your little one gets cold, then make the sleeves longer.  The pattern calls for buttons but the little one likes zippers, go for it.  Most modifications are easy and straight forward, but if you need help you can always google it and find something on youtube to help you out.
You can smallsize that:  If you are a capable/brave knitter you might even consider small sizing an adult pattern.  You could try using thinner yarn or just adjusting the stitch counts.
Include them in the process: You never know what they might ask for.  Sometimes they might push you to learn a new technique or do something so awesome you might surprise yourself.
The options are endless: You can knit so many wonderful things for children like toys, socks, hats, bags, pillows, blankets and clothes.  My daughter has been asking for a mermaid tail since forever.  I will knit her one someday :-).  She goes stash diving and asks for specific things and is always very grateful when she gets an FO.
Teach them about giving: It is always great to teach kids a new thing.  You love your children and you would probably knit them stuff anyways, but it is always great to teach them that you spent a lot of time and energy making them something.  Explain that you chose to use up your time to make them happy and ask them to make something for someone else.  My daughter has learned the value of handmade gifts from watching me gift other people things I made.