I love pinterest. I do. I actually begged for an early invite and got in early :-).  I love browsing it for knitting inspiration, finding new patterns, picking out colors and styling too.
You can take a look at my boards here.
Color
I am not a natural at picking out colors that go together all the time, so I cheat.  I just search for the keyword "colors" or "color scheme".  Sometimes just looking at all the beautiful color combinations inspires me to design something not just pick out colors.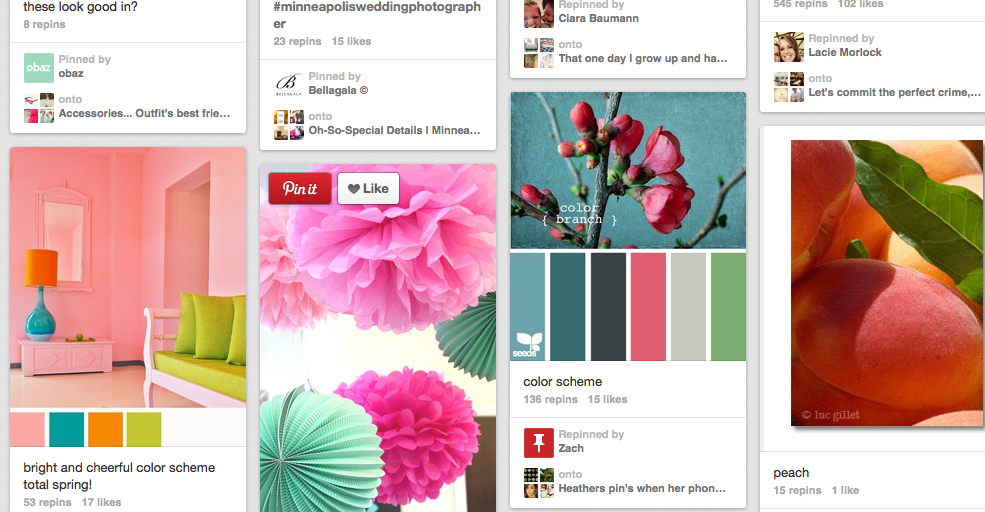 Patterns
As a designer it is always useful to look at what other people like, it is like looking at what is trending or what is "in" at the moment.  I also find a lot of great patterns I would love to knit or crochet.  There are lots of great knitting boards to follow like:
Judith Baer's boards, she has everything so organized by type of project.
Megan Goodacre's boards, who is known as tricksyknitter.
Annie Bee's Warm Woollen Mittens board.

Techniques
I have learned a few new techniques I might not have otherwise come by from randomly browsing on pinterest.  It is always a good idea to keep an eye open for new things. New techniques inspire new patterns and new projects.

Styling your item
I also look at non knitting related boards and pins to get more styling ideas.  The layering or pairing bright tights with neutral clothes and things I would never have thought of if I hadn't seen them.

Finding Yarn
This one is pretty simple.  To be honest sometimes I just enjoy the eye candy for no reason other than it makes me happy

How do you use Pinterest? Any favorite boards?