I am loving the doll frenzy I am into right now. I am a little bit OCD when it comes to details. I want the hair to be perfect. Or at least look like good hair (when perfection is impossible). I did a lot of researching and googling before settling on the way I did it. I encourage you to do the same, because every technique is interesting and works for a different style, mine is great for buns. For a larger image, just click on the one below to see it in more details, the order of the images is from left to right, top to bottom.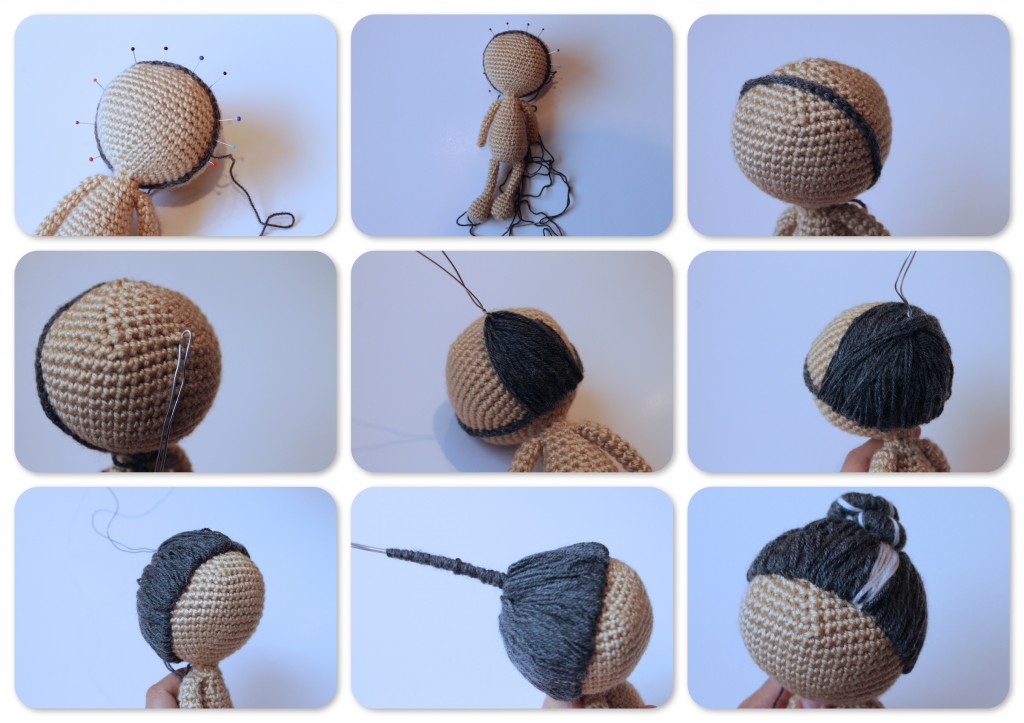 First of all you will need to make a crochet chain that barely goes around your doll's head at the hairline. Slip stitch into the first chain and do a round of single crochet. Use the same yarn you will be using for the hair. This looks like a headband and it will serve as the hairline and where you will be stitching the hair.
Pin it around your doll head, do this slowly and carefully, try different styles and placement.
Sew it onto your doll's head.
Using craft wire insert into a stitch and bring it out again to form something like a skinny U. This will be used for the bun. Again do this slowly, because changing where it is changes the whole look.
Using a threaded needle with the hair stitch into the headband and then take the yarn around the wire, keep doing this until the entire head is covered with yarn hair.
Next wrap yarn around the wire until it is completely covered with yarn. I kept going until it was quite thick because I wanted a full bun.
Because I am making a Granny doll, I added a little bit of white to one of the temples and wrapped the rest around the bun to give it a fun look. You can skip this or do it with a different color for a totally different and cool look.