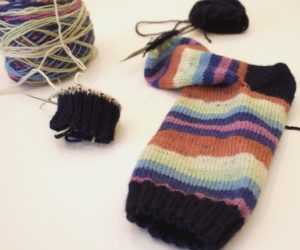 Knit the second sock first if you never want to get second sock syndrome. That's it. I always think of my first sock as my second sock.
To be honest, I just cast on the second sock right away or just before I am done with the first one. That way I have no excuses.
I hate having WIPs in my project bags for longer than they need to be. Especially socks, because socks can be worn all year round and who doesn't love having a ton of hand knit socks.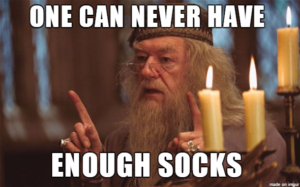 Here are more tips that can help you get done faster:
Knit simpler socks Yes the elaborate lace socks are so much prettier than vanilla socks but your feet don't really care and stockinette or plain ribbing can go along much faster.
Knit thicker socks I love fingering/sock yarn. I love it so much that I almost knit exclusively with it. But sometimes a chunky pair of worsted weight socks can be just perfect too.
Try different needles I am mostly a DPN girl, but I recently started using my 9inch circulars for socks knitting and boy is it so much faster because I don't need to switch needles or arrange my cables. You could always try different needles until you find the best (and fastest) rhythm for you. Metal needles tend to be faster because they don't grip the yarn too much.
Don't knit too tight Yes socks need to be tightly knit. But instead of doing all the tensioning yourself, try and relax while using smaller needles. Go down a size and knit looser. That way your hands are less tense and the knitting will go faster.
Knit on the go One of the best things about socks is that they are a really portable project. Keep your project bag in your purse and take it with you everywhere. A couple of rounds while waiting will definitely add up.
Multitask If you are knitting simple socks you could always watch TV or listen to a podcast, that way you can get more done in less time. I would love to learn how to read and knit at the same time and do them both really well.
Practice makes perfect Like everything else in life. You only get better at something by doing it so many times that you hone the skill. Knit more socks!