Check out the latest version here
Every time I come across a pattern that calls for a needle or a hook thats size is not given in metric I have to go ask Google what size that is.  So instead of having to do that every time I decided to make handy reference cards.
The PDF includes 3 cards
Needle Size Conversion
Hook Size Conversion
WIP, gauge and recommended hook or needle size for different yarn category
I also added the WIP card because I buy lots of  yarn that does not clearly state what category yarn it falls into.  It makes my life easier to have a general idea.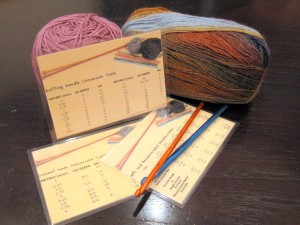 Now I am thinking I need mini project cards and printable ball bands.
Download the PDF file for the Handy Reference Cards
Print them on card stock, cut them and have them laminated so they can withstand every day wear and tear.
For such a lazy person, I spent a couple of hours making these this mornings.
Is there anything else I am missing?